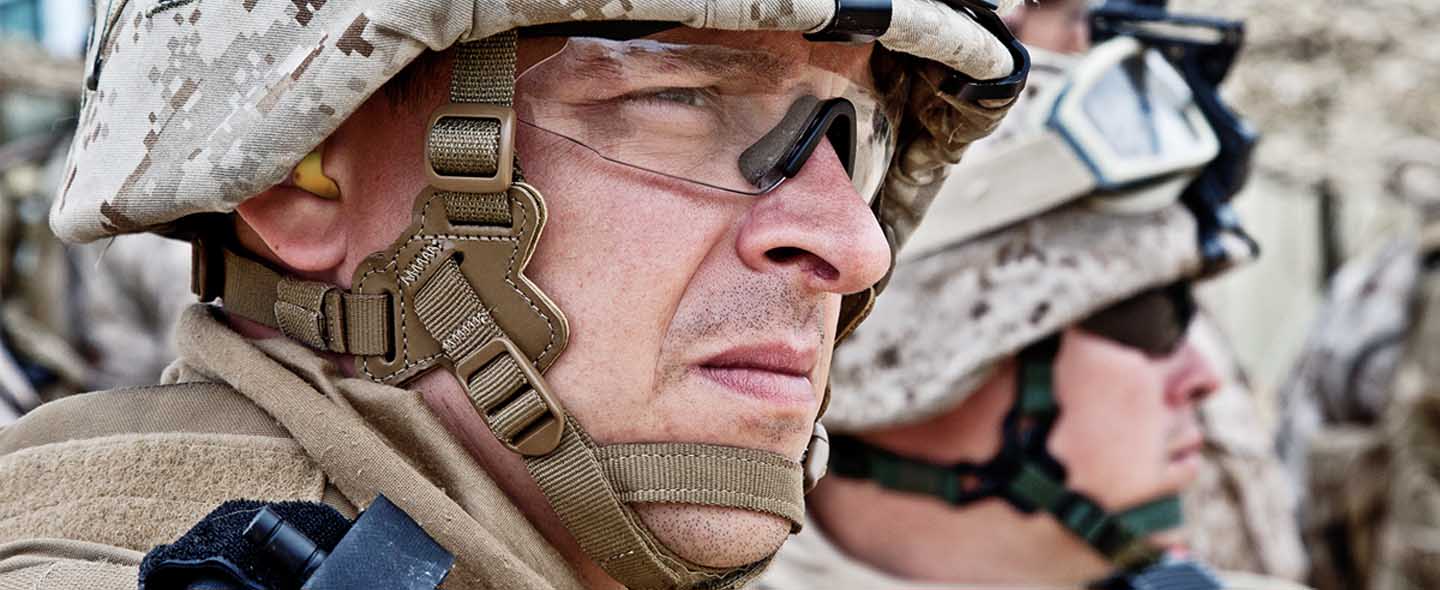 Service members deployed in every war the U.S. has been involved in since 2002 have been put at risk for tinnitus and hearing damage. The Combat Arms Earplugs (CAEv2) that you depended on to prevent concussive impulse hearing damage may not have worked properly. In fact, if you were issued CAEv2 earplugs, you may have already been diagnosed with hearing damage, or you may need to be screened for damage because these devices may have failed to prevent injury from impulsive sounds. If you were deployed to a combat zone between 2002 and 2016 and were issued Combat Arms Earplugs, you may be entitled to significant compensation. Contact one of our lawyers today to learn more.
Were You Issued CAEv2 Earplugs?
For more than a decade, while you were risking your health and life in war zones across the globe, 3M was knowingly supplying you with defective earplugs that could cause you to suffer hearing damage or the constant buzzing and ringing of tinnitus. When the military awarded 3M with an exclusive defense contract to supply servicemembers with hearing protection, it trusted that the selective attenuation earplugs would work as promised. But instead, 3M issued earplugs that were allegedly defective and could allow dangerous impulse sounds to reach the ear and cause hearing damage.
Our attorneys are working with servicemembers who have suffered hearing damage or tinnitus after being issued the allegedly defective 3M Combat Arms Earplugs to make sure they receive the maximum compensation available by law for hearing injuries.
3M Pays Millions to Resolve DOD Allegations
A whistleblower filed a lawsuit against 3M over the allegedly defective Combat Arms earplugs alleging enormous damage was suffered by the U.S. military and the public. The suit caught the attention of the Department of Defense, which interceded. 3M paid $9.1 million to resolve allegations that the CAEv2 safety gear is defective, but the company did not admit fault.
The company compensated the government for the millions it spent on purchasing the earplugs, but the company has not done anything to help the servicemembers who depended on the earplugs to protect their hearing.
According to the lawsuit, while service members across all military branches were risking their lives in combat, 3M was making millions on safety equipment that exposed users to risks of hearing damage. And because a recall was never issued for the earplugs, they may still be in use today. If you are a military service member who used these earplugs, you may be entitled to significant injury compensation, and our lawfirm is fighting to ensure you get it. 
The Hearing of Millions of Servicemembers May Have Been Risked
Unfortunately, millions of servicemembers received Combat Arms Earplugs while they were deployed and engaged in combat. Many of these servicemembers have been exposed to damaging impulse sounds while depending on their earplugs to protect their hearing. Some of these servicemembers have already been diagnosed with hearing loss and/or tinnitus, and many more may need to be screened for hearing damage. The allegedly defective earplugs were issued to U.S. troops engaged in foreign combat in:
Yemen
Afghanistan
Iraq
Pakistan
Somalia
Libya
Syria
The sad truth is that 3M may have knowingly provided you and other servicemembers with allegedly defective earplugs while you were on foreign soil, risking your health and your life. Our law firm is fighting to ensure that 3M is held liable for the hearing damage, hearing loss, and tinnitus that its earplugs may have caused, and we are demanding that servicemembers whose hearing was affected by the use of defective earplugs receive the maximum compensation available by law. Contact us today to learn more about how we can help you.
Did 3M Know the Earplugs Were Defective?
According to the whistleblower lawsuit, 3M was aware that CAEv2 did not always properly perform in 2000. The earplugs are dual-sided to perform two different functions. When used with the green side in the ear, in the closed or blocked position, they should function like traditional earplugs to reduce all sounds. But when used with the yellow side in the ear, in the open, or unlocked position, the earplugs were supposed to significantly reduce or block the impulse sounds of explosions while allowing some sounds through, such as the sound of distant gunfire, or the sound of voices.
The earplugs were originally made by Aearo Technologies, and when 3M acquired Aearo Technologies in 2008, it also hired the employees who developed and tested Combat Arms Earplugs v2. The employees knew that the earplugs were defective. The earplugs stems are not long enough to create a proper seal in some wearer's ears. This defect can allow impulse sounds to enter the ear and cause hearing damage.
And while 3M knew of the defects before the company was awarded a contract as the exclusive provider to the U.S. Military of these combat earplugs, the company did not improve the design of Combat Arms Earplugs before putting servicemembers at risk for long-term and permanent hearing damage. If you were issued CAEv2 earplugs and you have been diagnosed with hearing damage, or you need to be screened for hearing damage and tinnitus, speak with a lawyer from our firm today to find out if you qualify for significant compensation.
Hearing Damage and Tinnitus Caused by Defective Earplugs
Hearing damage and tinnitus are two of the largest issues facing servicemembers today. Even worse, military veterans who suffer tinnitus and hearing damage often experience depression and anxiety. In fact, research conducted by the Veteran's Administration found that nearly three-quarters of vets who are diagnosed with tinnitus are also diagnosed with anxiety and at least half are diagnosed with anxiety and depression. The problem of hearing damage among military veterans is so serious, that at least one million veterans in 2015 received hearing loss related disability and 1.5 million more servicemembers were compensated for tinnitus.
But general hearing loss and the hearing damage that is caused by blast exposure are different. When you are exposed to the impulsive sounds and pressure of blast explosions, you can develop a type of hearing damage called auditory processing disorder. This disorder can affect how you process auditory information. For example, you may be able to hear normally and pass hearing tests, but you might not be able to understand speech properly. Damage from explosions can affect how the brain is able to interpret auditory messages and separate meaningful sounds from background noise. Auditory messages received by servicemembers with APD may be distorted and interfere with how they are able to process information and communicate.
What's makes this particular distressful is that servicemembers must be exceptionally tuned into what is going on with other service members as well as opposing forces. Yet, APD can make it very difficult to:
Communicate in a group of people
Follow multiple-step or complex directions
Follow rapid speech, long conversations, telephone communications
Locate the source of a sound
Multi-task
Read, spell, write properly
Servicemembers who suffered hearing loss and tinnitus are alleging that 3M took advantage of this and made massive profits on defective military safety equipment while putting millions of servicemembers at risk. If you suffered hearing damage from defective earplugs while serving in the military between 2002 and 2016, speak an attorney at our firm now. We are fighting to ensure that every affected servicemember receives justice.
We Can Help
If you were diagnosed with hearing loss or tinnitus or if you are suffering from ringing in the ears or hearing damage, contact us today. If you served in a U.S. involved conflict between 2002 and 2016, and you were diagnosed with or are experiencing hearing loss or tinnitus after using 3M Combat Arms Earplugs, you may be entitled to significant financial compensation, and we will make sure you get the maximum compensation available.  
Servicemembers who have been affected by hearing loss and the buzzing and ringing associated with tinnitus are fighting back and demanding justice from 3M who knew or should have known about that the earplugs did not properly fit some wearers and could allow impulsive sounds to circumvent the safety equipment and cause damage inside the ear.
Our attorneys are proud and honored to help fight for the men and women who risk everything to defend the beliefs and freedoms that we hold strong, and we are working to make sure all servicemembers who used CAEv2 earplugs receive the justice they deserve and the compensation they need for the hearing loss they sustained due to the allegedly defective Combat Arms Earplugs made by 3M.
If you have been diagnosed with hearing loss or tinnitus or if you are suffering hearing damage or the constant buzz or ringing of tinnitus, contact us now. We are fighting to ensure that 3M compensates the servicemembers who suffered injury due to allegedly defective earplugs as it did the government. We will make sure you and every affected servicemember who suffered hearing damage from defective earplugs receive the justice and compensation they deserve.
Call Now For a Free & Confidential Case Evaluation 866-260-4276