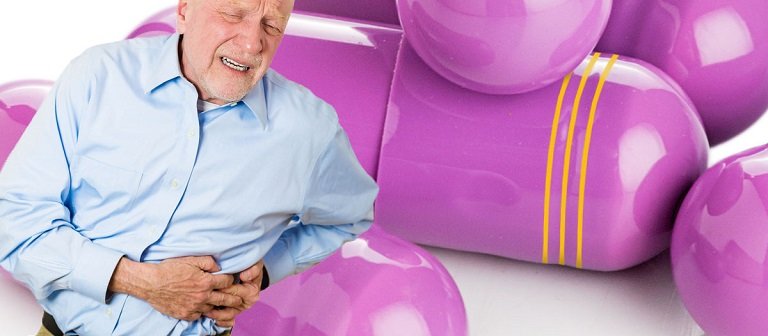 Commonly used proton pump inhibitors may increase your risk of developing stomach cancer. People who take any of these medications, whether prescription or over-the-counter may have increased risks. PPI medications include:
Aciphex
Dexilant
Nexium
Prevacid
Prilosec
Protonix
These drugs all belong to a class known as proton pump inhibitors (PPIs) and are drugs that reduce the amount of acid produced in the stomach. While they are effective at treating most types of indigestion, heartburn, ulcers, and GERD, use of these drugs, either by prescription or over-the-counter, has been associated with serious risks, adverse events, and health complications.
As we have already reported, use of PPIs has been associated with serious adverse events such as:
Bone fractures
Chronic kidney disease
Clostridium difficile infection
Acute Interstitial Nephritis
Low Magnesium Levels
Dementia in elderly users
Heart Attack
Stroke
Now the medications have also been associated with cancer.
Researchers Associate PPIs with Stomach Cancer
Use of PPIs is associated with profound acid suppression which may make inflammation of the stomach lining (gastritis) worse. The risk is even higher in patients with H. pylori, but researchers believe that the risk for gastric cancer remains high even for patients in whom H. pylori infection is eradicated.
Researchers needed to understand how big a risk users face when they take a PPI for an extended period of time. To do this, they conducted a study involving 63,397 participants. The median age of the participants was about 55 years, and just over 46 percent of the participants were male. Researchers studied these participants for between seven and eight years and determined that all PPI users had a 2.4-fold increase in the risk of developing gastric cancer than people who did not use PPIs. They also found that:
Patients who took PPIs daily for one year had five times the risk
Patients who took PPIs daily for two years or more had six times the risk
Patients who took PPIs daily for three years or more had the highest risk and were more than eight times more likely to develop stomach cancer than non-users.
Another study published in the British Medical Journal found that PPI users had a three-fold increase in stomach cancer. The cancer had no bias, occurring equally in men and women of all ages. However, the incidence ratio for PPI stomach cancer in this study showed that users younger than age 40 had an especially increased risk.
Moreover, researchers published an article in Gut stating that drug makers should have anticipated a gastric cancer link to PPI in the 1980s, when it became clear that the carcinogenic effect of PPI treatment is due to hypergastrinemia, which the authors say should have been realized decades ago, before patients were exposed to the risk of a serious and potentially fatal disease.
If you use a PPI medication, it is imperative that you are aware of the symptoms of stomach cancer so early treatment can be given.
Symptoms of Stomach Cancer
Symptoms of stomach cancer can include:
Fatigue
Feeling full after eating only a small amount of food
Persistent and severe heartburn
Chronic indigestion
Nausea that you can't explain
Stomach or abdominal pain
Persistent vomiting
Unexplained weight loss
But these are very general symptoms that may be confused for a wide variety of other health issues. Before physicians can diagnose or stage stomach cancer, they have to determine which parts are affected. The stomach has five layers:
Mucosa – the innermost layer of the stomach that makes acid and enzymes for digestion;
Submucosa – supports the mucosa layer;
Muscularis propria – a layer of muscle that mixes the contents of the stomach;
Subserosa and serosa are the outer most layers that wrap the stomach.
Cancer is staged by determining what layers of the stomach are involved. Most cancers start in the mucosa and grow into the other layers. As more layers are involved, the more advanced the cancer and the more serious the prognosis.
If the cancer is confined to the mucosa layers it can typically be treated without surgery; however as the cancer progresses, surgery may be required to remove sections of the stomach, or remove the stomach completely depending on how much of the lining is involved. Chemotherapy or chemoradiation may be used before surgery in more serious cases.
PPI Users are Seeking Justice
Patients who developed stomach cancer after taking PPIs like Nexium, Prilosec, and others are questioning when the manufacturer knew about the increased risks of developing cancer when taking a PPI and why they weren't told.
Many of these patients say that PPI makers knew or should have known about the increased risks of cancer in people with H. pylori infections and those without. Yet, none of the companies who make these medications have warned about the increased risks. In fact, these drug companies have not listed the side effect of cancer in their TV and radio ads, their online ads, or in print ads. They also do not list the increased risk of cancer in the medication guide that patients receive, or in the prescribing pamphlet given to physicians.
Many of these patients and their families are filing lawsuits against PPI manufacturers seeking justice for what they call a defective and dangerous medication. These patients have developed stomach cancer after taking PPI medications, and they want to know why they were never warned that they could develop such a painful and life-threatening disease.
Those people who used PPIs and were then diagnosed with stomach cancer say they would not have taken a PPI drug if they had known about the risks. They say they would have chosen treatment with a similar but safer medication that doesn't cause cancer if they had known, but because doctors and patients were never warned about the risks, the patients say they were denied their right to make informed healthcare decisions.
You May Have a Time Limit to Seek Justice
Any person who suffers injury from a prescription or over-the-counter medication may be entitled to seek justice for their injuries. However, you only have a certain amount of time to do so. The statute of limitations can be thought of as a clock that starts ticking the minute you sustain an injury or discover you were injured. When it stops ticking, you are barred from filing a case. But how long the clock ticks depends on the state in which you live. Some states have a one-year deadline while other states may give you up to six years to file a claim. If you developed stomach cancer after taking PPI medications, it is very important that you contact an attorney to help you determine the time limit in your state for seeking justice.
We Can Help
Drug makers have a high duty to ensure their products are safe. When they fail that duty, they may be liable for injuries. For decades we have fought for the rights and protection of people injured by the medications that were supposed to help, and we stand ready to fight for you today.
We will help you get all the compensation you may be eligible for, such as:
Medical costs for treatment and related expenses for current and expected future treatment
Lost wages if you missed days at work due to your PPI stomach cancer or if you will need to miss work because of your condition
Damages for the physical pain and emotional suffering you are suffering
Loss of consortium if you are seeking justice on behalf of your spouse
Punitive damages should the court deem it appropriate
To get you the most compensation available by law, we do things a little differently than other firms. We don't let drug companies get away with taking advantage of the consumers and patients who need them the most. Instead, we:
Investigate the evidence, testimony, and expert opinion to determine when drug makers knew about the risks, why they didn't warn the medical community, and determine the scope of your injuries.
Estimate the cost of damages and loss with medical experts who know how to value a PPI stomach cancer claim accurately.
Advocate on behalf of PPI stomach cancer victims to ensure you get the most compensation possible for your injuries and losses.
Litigate your case in court when necessary and use every lawful measure to ensure you get the maximum compensation you need and deserve.
Contact us now to learn more about the risks of PPI stomach cancer, your rights by law, and whether you are eligible to seek significant compensation for your injuries and losses.
Call Now For a Free & Confidential Case Evaluation 877-571-8918